I know you will all be heart broken
Friday, June 22, 2007
Well, I have decided to close my

Myspace

account. I know this is devastating news for all six or so people that I actually talked to. But I know you will be able to move on, and find new "friends" to fill my empty space. In all seriousness, it just seems to be an addicting waste of time. And I already find a thousand ways to waste time every day, I don't need another. I have met a couple of nice people, but for the most part the people on my

Myspace

are people I actually speak to in person, and I am not the type of person to say "well, I could call so and so, but I would rather leave 50 comments on their page." Furthermore, as anyone can see from this blog, I am terrible at blogging on a regular basis. So basically my

Myspace

is just a bunch of pictures of friends. Despite all these downsides to

Myspace

, I still find myself logging in everyday. Its like a drug addiction. If I haven't checked my

Myspace

, I feel like I have missed out on something important. This is disturbing. So, there you have it, no more

Myspace

. :-)

I added a new link to the

DM

of the Rings. Its a comic based on the

LOTR

(using screen shots from the movies), written as if it were a D&D campaign. I don't play D&D and it took me a bit to understand all the references to the game, but once you get it, its hilarious. Again, you can see here that I can find plenty of ways to waste my time, but this one is actually very amusing and worth checking out.

I still haven't done anything with my new yarn. I'm having a hard time finding a pattern that works well with it, and its frustrating the heck out of me. So I have given up on it for a while. I am working on an afghan right now, just using my stash and a simple garter stitch ridge pattern on circular needles. Its easy enough that at the end of the day, when the kids are in bed, I can just mindlessly knit. No stress involved. Its going to be interesting, as I have several colors of yarn, none of which really go together. I will post a pic when I am further along.
posted by Heather @ 11:46 AM

About Me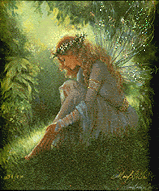 Name: Heather
Home: Keene, New Hampshire, United States
About Me:
See my complete profile
Previous Post
Archives
Links
Powered by