I'm A Bad Blogger
Sunday, May 13, 2007

Okay, so I haven't blogged in over a month. But hey, we all knew that would happen! So, to all the loyal fans of my blog (yes, mom, I mean you!), my bad. But, in my defense, I have no life, and therefore nothing to really blog about :-p

So, pictures! There are a couple pics here of the teapot hot pad pattern I made. I actually never finished knitting it myself (bad, bad), but these are pics of the one mom made from the pattern to give her mom on mother's day. It came out okay, kind of long. But hey, I never said I was good at this.


We went to the New Hampshire Sheep and Wool Festival today. It has become our yearly mother's day ritual, well for two years in a row anyway. This year was more enjoyable than last year, both because my dad was able to watch the kids so Helen, mom and I could go alone, and it wasn't one giant mud pit this year. Last year we had so much rain just before the festival the whole fair grounds were a mess. This year my goal was to buy some yarn I would actually make something with! I bought yarn last year to make a felted bag, and its still waiting to be worked. I really am not sure what I was thinking when I picked the yarn last year. Its nice yarn, but its pink. And anyone who knows me knows I steer clear of pink. I think I will need to make something for someone else with it. But this year I got something I will definitely use! I'm going to say its 50% merino and 50% wool (I am pretty sure that is correct). Hand dyed of course. Blue and gray. Hard to say what it will look like worked up, but I plan to make a lacy scarf, and if there is enough a small bag. Its non felting, but since I am capable of getting stains on just about anything that works well for me. I will post a pic of it tomorrow. As soon as the sun goes down, my camera is completely useless.

Well, that is really all there is to report for now. I always have so little to say, but for some reason I just feel I must have a blog. Everyone else is doing it! Peer pressure!!! I complain to people that I have nothing to blog about and they say "just be funny." Apparently I am quite amusing in person. Just not in writing. Although if I continue to post pictures of patterns I designed I could probably get a few good laughs! What do you think?
posted by Heather @ 8:57 PM

About Me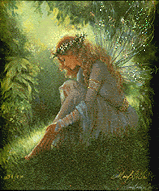 Name: Heather
Home: Keene, New Hampshire, United States
About Me:
See my complete profile
Previous Post
Archives
Links
Powered by